Civil engineering Center(C.E.C.)

 
Director:
Prof. Dr. Ahmed Mohamed Farhat 
Introduction
The Civil Engineering Department at the Faculty of Engineering of Cairo University is one of the oldest and biggest around the world. The department has more than 350 staff members with diverse practical experience in the three major fields of civil engineering; namely : Structural Eng'g. Public Works Eng'g., and Irrigation Engineering. Modern laboratories in all related fields support these human resources. In order to make use of these capabilities in serving the civil engineering profession, the Civil Engineering Center CEC was established as a special unit at Cairo University in 1994.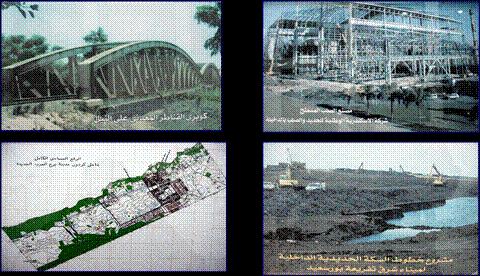 Main Objectives
1. Providing technical consultations in the design, construction, and management of engineering projects in all civil engineering fields, such as :
*  Concrete Structures.
* Steel Structures.
* Irrigation & Drainage Works.
* Harbor Engineering.
* Geotechnical Engineering.
* Sanitary Engineering.
* Traffic Engineering.
* Roadways & Air Ports Design.
2. Supporting applied research in the areas of civil engineering related to society needs.
3. Organizing training programs for the continuing education of practicing engineers.
Since its start, the center has provided engineering services to many customers in Egypt. Examples are:
1. Alexandria National Iron & Steel Company (ANSDK) (1992-1998) :
– Extension of Steel Making Plant
– Extension of Rolling Mill Plant
– New Bar Mill.
– Flat Steel Project
– Southern Bridge
2. Sugar Integrated Company (1984- 1996):
Structural steel design of the following factories:
– Dakahlia Sugar Factories.
– Armant Sugar Factories.
– Kum Umbo Sugar Factories.
3. National Authority for Social Insurance:
Design and supervision on execution of all authority buildings all over Egypt.
4. The Egyptian Company for Metallic Construction ' Metalco':
Structural steel design of microwave antenna towers with heights up to 110 m.
5. National Authority for Tourism:
Study of prospects for Nile tourism in the sector Cairo-Aswan.
In addition, the Center has organized training courses in concrete design, steel design, water and sewage works, construction management, and weld examination techniques. The Center has also supported several engineering conferences dealing with composite materials, irrigation design, and engineering development of the southern valley.
For Further Information, Please Contact:
Tel. : 35678002     Tel & Fax: (202) 35714183